Cognitive Games
Research based brain training games with multilingual voice-overs.
Local Content
Senior-friendly activities created with Singapore context.
Open Platform
Add any app from the Google Play Store, videos or web pages for easy access.
Includes
100+
Activities & Games by SilverActivities
SCIENCE
In a recently published peer-reviewed research paper, SilverPad was used to explore older adults' attitudes and acceptance towards the use of digital technologies.
Evaluating the feasibility and perceptions of a senior-friendly tablet among older adults in Singapore: A mixed-methods study
Digital technologies are becoming increasingly pervasive and integrated into our everyday life. This presents innovative opportunities to enhance older adults' independent living and mental well-being. The current study has shown that most participants found the experience of using the SilverPad tablet to be satisfying and positive with demonstrable effects on their level of comfort and well-being.
Customer Testimonials
If you are looking for the best tablet for seniors or elderly individuals to keep them engaged, SilverPad has a wide range of user-friendly content specifically designed to meet the needs of older people. Our senior tablets are easy to use and offer features like simple interfaces and pre-installed games. Experience the convenience and enjoyment of a tablet with games for the elderly designed with their preferences in mind. Explore our selection and find the perfect tablet for old people for your needs today.
I think SilverPad is a great idea and helps to get seniors who are not tech-savvy get started on using a mobile device. It works as intended and gives us the flexibility of adjusting what our mum sees on her screen.
My mother only speaks Tamil and not tech savvy. So having a tablet with Tamil language and simple user interface helps her enjoy the benefits of the internet. SilverPad is very useful to simplify usage by elderly and also manage the contents remotely by family.
Our elderly clients enjoys the games as they are stimulating and interesting for them. They feel happy and satisfied that they use up a new gadget. Helps therapist to engage clients cognitively while they use Standing frames and Tilt tables for standing during rehab. Recently we recommended to our new OT colleague who started to use for her clients too!
The primary motivation in SilverPad stemmed from finding a suitable online cognitive activity for my mother who is recovering from a stroke. I explored the SilverActivities website and found SilverPad, the ultimate tablet solution which I was looking for – portability + accessibility + versatility + manageability. With SilverPad, my mother has found something meaningful and mentally stimulating to play with that will supplement her regular therapy sessions. This, I have no doubt, will add immeasurable value to her recovery.
Every weekend when I visit, I'll sit and use the SilverPad with my grandmother. The SilverPad and it's Cognitive games helped my grandmother and I develop quality time together. The games keep her mind active and focus, it also builds a sense of accomplishment when she is able to complete the various levels. I also use the SilverPad to load her favourite Teochew soap operas which she can watch when she is not in the mood to play any games. The SilverPad is an easy-to-use and engaging device. It's empowering for the old and intriguing for the young. Many family members can use the SilverPad and it's activities together.
SilverActivities has been widely used in our day care & rehab centres, either as an individual or group activities. The SilverActivities has a wide range of cognitive games which are suitable for all levels of cognitive impairment from mild to severe. With the app it's easy for the elders to touch & play, also it auto grades from easy to difficult stage matching to the elders ability. Since the pictures are locally relevant & the elders were able to relate themselves and participate well. SA web based slides with many different themes were so useful during the circuit breaker to engage the elder remotely. I have been recommending SilverActivities to the caregivers, which the family members finds it as a good resource to engage the elders at home. SilverActivities is one stop portal for many with locally relevant cognitive games for elders & its elder friendly.
Buy SilverPad For Your Elderly Loved One
SilverPad 11" (Samsung)
BUY NOW
SilverPad 11" (Xiaomi)
BUY NOW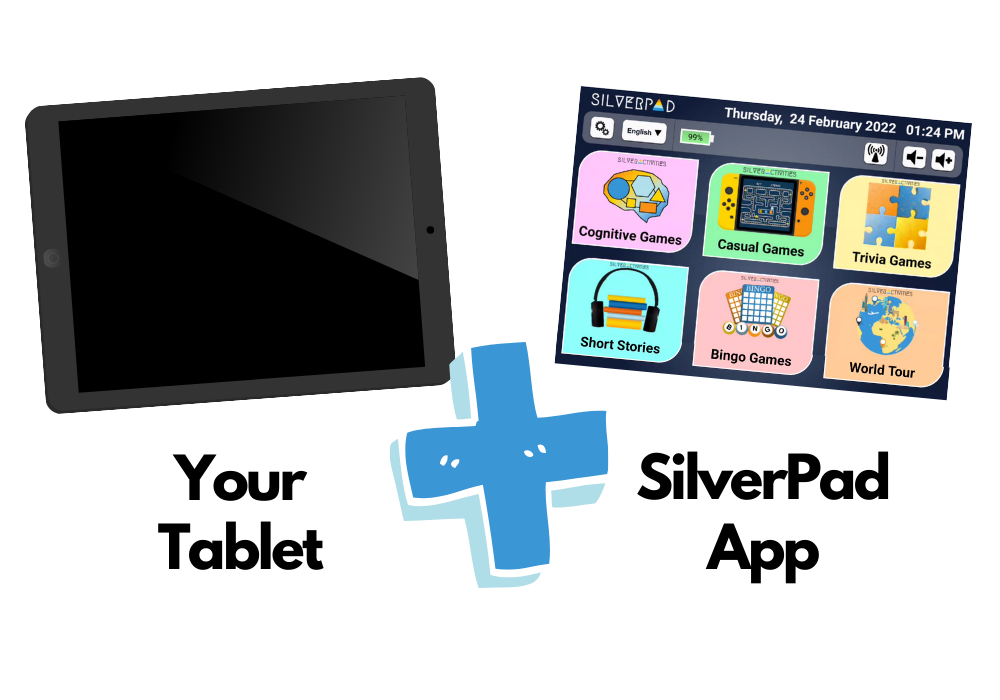 SilverPad Software
**
ENQUIRE NOW
- FREE Shipping.
- Delivery within 3-5 working days.
** If you already own an Android tablet, you can purchase the SilverPad software. Get in touch to check the compatibility and pricing.
Need to know more about SilverPad
Leave us your details and we will get back to you
Frequently Asked Questions
SilverPad is a tablet for seniors with big icons, fonts and features to help non-tech savvy seniors stay engaged with meaningful activities. The SilverPad interface is simple, multilingual and easy to use. It contains over 100 activities developed especially for seniors by SilverActivities. Besides, caregivers can add new content on SilverPad using the FREE Content Management System (CMS) using a laptop/desktop.
We have both options available.

Purchase with a tablet: SilverPad comes installed on a big screen (8.7" and 10.5") tablet. You can find the tablet tech specifications here.

Purchase software only: If you already own an Android tablet, please fill out this form to check the compatibility and pricing.
SilverPad interface, SilverActivities Cognitive games and a few other games that we developed can be accessed without an internet connection. However, there may be other apps or videos that need the internet to function.
Try SilverPad At Our Office
If you would like to try out SilverPad, you can drop by at our office.
Work Central Offices
#06-01, 190 Clemenceau Ave Near Dhoby Ghaut MRT station Singapore 239924
Note: The demo is strictly by appointment only.